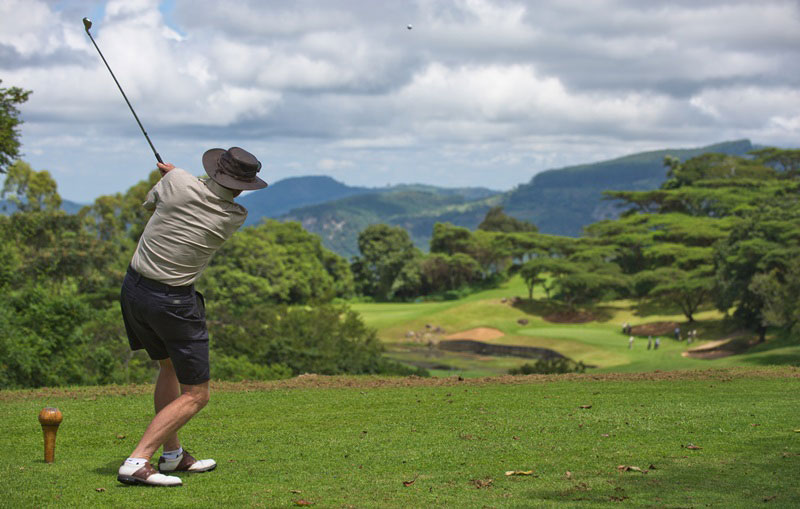 Destination Zimbabwe is home to more than 30 golf courses and many international golf tournaments have been played and witnessed in our destination. If you are golf enthusiast and planning a golf vacation, look no further. Tee off your golf safari tour in one of the most magnificent golf courses in Zimbabwe with an exhilarating attachment of exciting activities in one.
The warm sunny weather that our country experiences throughout the year is only another feather in the cap of Zimbabwe and it's just one more reason it should be your next corporate getaway destination. While golfing lies in the heart of what we do, we like to enhance the visitors' experience of destination Zimbabwe. This way we specialise in customised packages that incorporate many varied aspects of golfing and other sports.
Zimbabwe provides a detailed overview of the excellent golf courses, leisure and dining combined in one. We offer an excellent value and personalised golf incentive tour to meet your corporate requirements. Ensuring a proper event execution by creating a personal touch customised to your imagination. We create extra ordinary bonding moments that will give the whole group the chance to be closer to each other through enjoyable good times.
Corporate Golf Events are a great business tool as they assist in developing business relationships and networking opportunities in a competitive yet relaxing environment. Golf activities can reinforce teamwork and strengthen interpersonal relationships. An event of golf, wine, food and quality accommodation combined is a great reward for any client or employee.
Another aspect on golfing in Zimbabwe is on its attributes to health and wellness. Health and wellness are key to incentive programmes and golf is one sport known to boost social connections and self-esteem through improved mood, reduced anxiety and increased confidence. Wellness attributes mostly to a socially connected team and thus improving corporate performance.
No matter how small or large your organisation or group is, we treat each and every group as a VIP, ensuring that every trip is a success.
Best Golf Courses in Zimbabwe
Leopard Rock Golf Course
Elephant Hills Golf Club
Royal Harare Golf Club
Chapman Golf Course
Warren Hills Golf Club
Borrowdale Brooke Golf Estate